I love seafood, but I don't seem to eat much of it in Santiago. This of course is not counting sushi, which you would think was the national dish by the sheer number of restaurants and hand roll vendors in the city of Santiago. And for some reason, everyone puts cream cheese in the rolls, which is an abomination on the same level as pineapple on pizza. There's no changing my mind on these two terrible combos. This is a hill I'll die on. But I'm getting off track, this review has nothing to do with sushi or pineapple on pizza.
El Galeon is a traditional seafood restaurant located in the Mercado Central, near the metro Cal y Canto station. I had been wanting to try El Galeon for a while, since I pass it on my way to and from La Vega. It's usually busy and has been open since 1935, which is always a good sign. They overdo the nautical theme a bit, but it's fine. They have empanadas and a few meat entrees, but it's primarily focused on fresh seafood. There are 10 or so options for fish and they can all be prepared in a variety of ways.
I decided to start off with a camaron queso (shrimp and cheese) empanada. This was a great decision. It was by far the best camaron queso empanada I've ever had. Most I have tried have had chewy shrimp that was clearly frozen, but these were fresh and cooked to perfection. The outside was flaky but soft and had a golden-brown color. I didn't get a picture because my animalistic instincts kick in and I lose the ability to think rationally when someone puts an empanada in front of me. It was the best thing I had, and I will definitely be going back for more.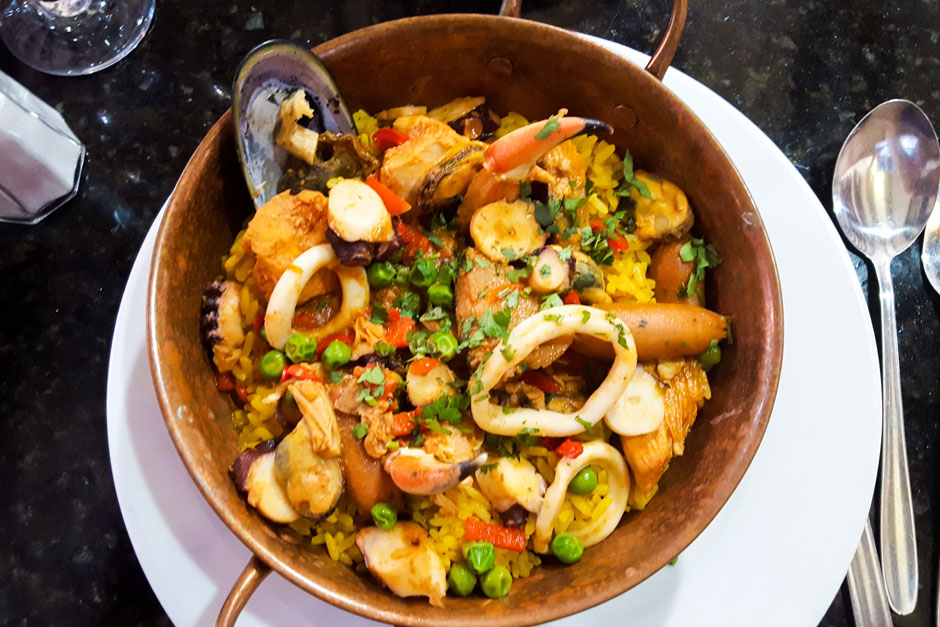 For my main course I went with the paella Galeon. There were some things I didn't like about it, but in general it was great. This paella was jam packed with meat and seafood. There was chicken, pork, sausage, shrimp, clams, mussels, crab, and probably some other things I'm forgetting about. The flavor was great, and I was completely stuffed by the time I was finished. The rice was a little watery, but that might just be what happens when there's such a high concentration of seafood. The only thing I didn't like was the crab claw which was stringy and overcooked.
Overall, I would say El Galeon should be near the top of your list for seafood restaurants to try in Santiago. It's difficult for me to not recommend the paella, but I think it would be better to choose a dish focused on one type of fish.